Donderdag 24 september
Ready for a corona proof boulder competition? We present SENDtober 2020!
Climb all the 40 new boulder problems between 03/10 and 31/10, with the KICK OFF on Saturday the 3rd of October.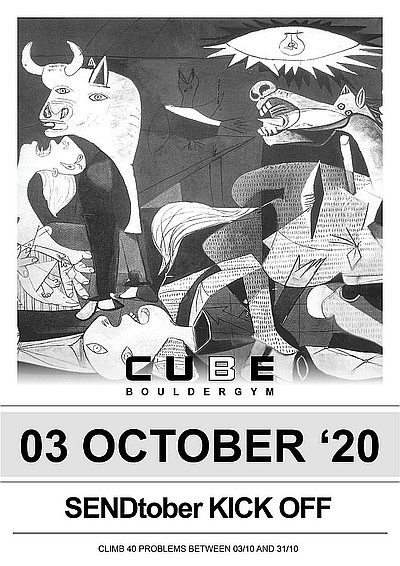 Format
40 boulders, climb as many as possible within the month October.

Dates
The competition starts on saturday October 3rd and ends on Saturday October 31st.
The kick off is on on Saturday October 3rd.

You can only enter when you participate in the competition so we are closed for other visitors
In the morning the youth will compete during the normal training hours.
In the afternoon we have 2 time slots from 13:00h – 16:00h and from 16:00h – 19:00h, so you'll have 3 hours kick off this fun competition.
Cost and reservation:
Participation is free.
Reserve a spot for the kick off using our reservation system: Letscube.nl

How is this competition corona proof?
- You will have a full month to compete, not just one day
- The boulders will be built in different sections of the hall
- During the kick off (and also on normal days) we will keep our maximum of 48 people in the gym
- You can only enter the kick off with a reservation (make one on letscube.nl)
- Fill in your score online
- All our normal corona rules apply as well