Wij zijn gesloten - We are closed
We hopen zo snel mogelijk weer open te kunnen
Check onze online en outdoor trainingen
The coolest boulder event!

Our biggest and fattest bouldering event is back. Last 2 years we skipped because of our extension. This year we're back. But we are Bigger, Better, Cooler.
Ice Cubes is our yearly event with nice holds, beautiful boulders, spectacular finals and of course a big cocktail party.
For your that means: During the day hard bouldering on 60 of the most beautiful boulders, and in the evening watching a beautiful final while sipping a cocktail.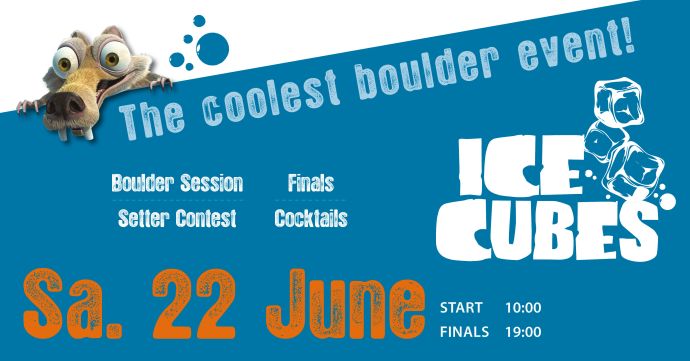 ICE CUBES:
The coolest boulder event
60 problems, quality, not quantity.
Level 4 - 7c (More then half of the problems will be 6A or easier)
Spectaculair Finals
Food and drinks
Big cocktailparty

The routesetters will set 60 of the best problems. but these will be of the highest quality. On Friday we invite the best setters from the Netherlands and Germany to so set their best boulders possible. On sunday you -the climbers-, and our chief setter -Manuel Hassler- will choose the best setter.
All the walls will be stripped of all other holds. We will have lots of volumes and a whole lot of new holds to work with. Axis, Flathold, Cheeta, Xcult and Kingdom Climbing will send their holds over. To help you send your projects we will have the cleaning equipment of GoodGrip.

The event will conclude with a cocktail party and a spectacular final where the best climbers will "show" what they're made of.
Participation
Participation is possible for all ages but the boulders are tailored for adults. We recommend from youth B (Born in or before 2005)
Entrance fee for saturday is € 17,- ; Cube members pay €15,-


Categories
We'll have 2 categories male and female, which will have their final.
We will also announce the winners in the youth (<18) and veterans (40+) categories before the finals. Youth and veterans automatically take part in the adult category so they can take part in the final if they're good enough.
Diner
We'll provide a healthy climbers supper for €9.00. More info when we've arranged the details. If you don't like our offer you can use the "Twentsche Foodhal" which is opposite Cube. With 9 kitchens to choose from you will have lots of opportunities to pick a snack or dinner if you want.

Sleeping
Best place to stay will be the campsite "Twentse Es" It's a 10 minute drive from the gym. Costs are about € 7,- per person.
It is also possible to sleep in the gym or at the paved area in front of the gym. We could also hook you up with some locals with a spare room. In either case let us know beforehand and we will make the neccesary arrangements.
Registration
Please register before June 15th so that we can guarantee a shirt and dinner.

Program Saturday June 22nd
9:00 Gym Open
10:00 Start Competition
18:00 End Qualification
18:00 Dinner
19:00 Finals
21:00 Result & Award Ceremony
Cocktail party
Location
Cube Bouldergym, Enschede
Partners
ICE CUBES 2019 is made possible by Mad Rock, Nihil Climbing, Axis, Flathold, Cheeta, Aap Climbing, Xcult and Kingdom Climbing